Cuisine & inclusives
Inclusives at the Markterwirt, Altenmarkt-Zauchensee

Tempting moments of pleasure and first-class holiday service await you on your summer or winter holiday at the 3 star Hotel and Gasthof Markterwirt in Altenmarkt. In our à la carte restaurant we prepare fine menus according to your wishes. Our special holiday bonuses suche as the extensive hotel facilities, luggage service, baby equipment and internet all guarantee a hassle-free and comfortable holiday in Altenmarkt-Zauchensee, in Salzburger Land.
Breakfast buffet at the Markterwirt
During your stay at the Markterwirt we'll spoil you every morning with an sumptuous breakfast buffet with organic corner and tea bar, getting your day of to a healthy start. In the evening you can of course enjoy our à la carte cuisine. We often serve fish caught by our angling enthusiasts.
Simply feel at home in our 3 star hotel
Room facilities
Our rooms are equipped with shower/WC or bath/WC, radio, cable-TV and telephone. We provide towels and bed linen free of charge.
Parking
Park your car during your stay behind the hotel, between the hotel and the bakery or on one of the free public parking spaces approx. 250 m away from the hotel. Weekly tickets for the underground car park are available from the Gemeindeamt (Council Offices).
Ski bus
There is a regular free ski bus service between Radstadt-Altenmarkt-Zauchensee and to Flachau. The bus stop for Radstadt-Altenmarkt-Zauchensee is right behind the hotel. The bus stop for Altenmarkt-Flachau-Flachauwinkel is just 50 m away.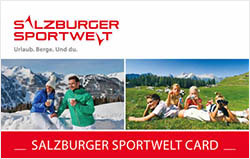 Salzburger Sportwelt Card
With this free card you receive a variety of special offers plus discounted admission to countless sights & attractions in the region.
SalzburgerLand Card
190 sights and attractions in the whole of the Salzburger Land are waiting to be visited! With this card you receive freeand discounted admission to the most popular attractions.
Empfangshalle
Kommen Sie gemütlich im Urlaub an – der optimale Ort zum Verschnaufen nach Ihrer langen Reise ist die Empfangshalle mit urigem Kamin.
Rezeption
Gerne beantworten wir Ihre Fragen oder helfen bei der Organisation des Urlaubes an der Hotelrezeption. Die Öffnungszeiten der Rezeption finden Sie vor Ort.
Aufenthaltsraum
Verbringen Sie heitere Abende in unserem Aufenthaltsraum im 1. Stock mit Fernseher und lustigen Gesellschaftsspielen.
Sauna
Gerne können Sie die hoteleigene Sauna gegen Voranmeldung nutzen (pro Familie kostenlos täglich reservierbar).
Skiraum
Stellen Sie Ihre Skier nach Ihrem erlebnisreichen Skitag bequem im Skiraum ab. Ihre Skischuhe können Sie am Skischuhwärmer für den nächsten Tag trocknen.
Speisesaal
Wir bitten Sie, sich im Rahmen des Frühstücks im hoteleigenen Speisesaal einzufinden. Für den Imbiss zwischendurch empfehlen wir Ihnen einen Besuch unseres À la carte Restaurants.